A ÁRVORE DE ZIMBRO
Islândia | 1990 | 78′ | Digital
Realização: Nietzchka Keene
"A Árvore de Zimbro" é um filme islandês com um pequeno elenco de cinco atores, incluindo Björk quando ela ainda fazia parte do Sugarcubes. Foi escrito, produzido e realizado por Nietzchka Keene, baseado num conto dos Irmãos Grimm. Rodado no verão de 1986 com um orçamento extraordinariamente baixo, o filme só foi lançado em 1990 no Sundance Film Festival. Retrata a história de duas mulheres, Margit (Björk Guðmundsdóttir) e a sua irmã mais velha Katla, que escapam de casa depois de a mãe ter sido acusada de bruxaria, apedrejada e queimada. Filmado num impressionante preto-e-branco, na paisagem de cinzas vulcânicas da Islândia, e ambientado na Idade Média, este filme tornou-se popular entre os admiradores de Björk.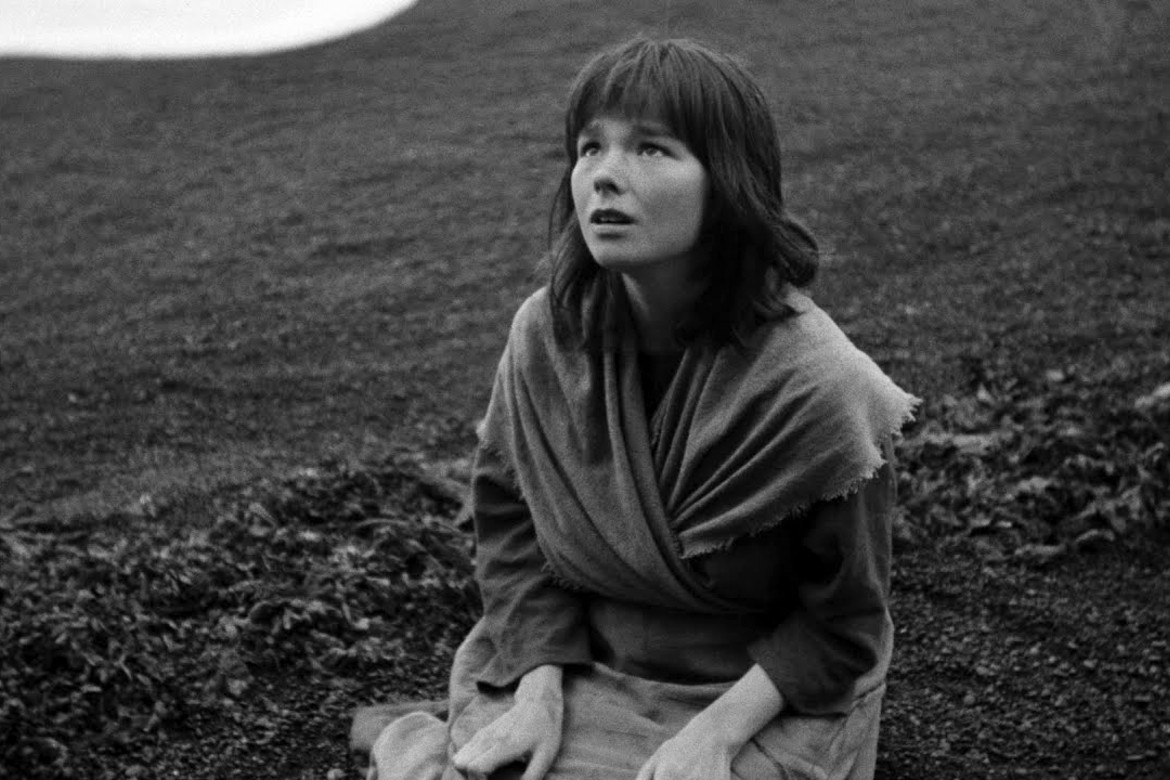 THE JUNIPER TREE (1990)
Loukia Batsi and Marianna Stathaki
"The Juniper Tree", based on the homonym Grimm's fairy tale, is the first feature film of its director, Nietzchka Keene, who made movies with microscopic budgets, often incorporating mythological or supernatural elements. It is also the film in which Björk made her emoting debut. Set in medieval Iceland, The Juniper tree tells the story of two sisters, Margit and her older sister Katla, fleeing for safety after their mother is burned to death for witchcraft. Unprotected in the wilderness, they are forced to keep secret their own powerful nature and to embrace the new dominant reality and its rules. The older sister leads the younger through this pathway, but the choice to pursue it eventually turns problematic.
«We will go where no one knows us and find a place to stay.
Who will take us?
I shall make a spell to find a husband. He'll hear my voice and never leave me. I'll see my footprints into his coat, and he'll follow me forever. I'll ride three times around him and bind his heart to mine. But no one must ever know. We must never tell. And we won't burn. Not like the others. Because no one will know us.
And we shall go with him and stay with him?
Yes. We shall go with him and stay with him.
And we won't have to leave?
Not until you want to.
And we shall be safe there?
We shall be safe.»
A stone house with a little window facing the outside world becomes the shelter of the two sisters. It is the house of a man who lives alone with his child, after the death of his wife. The older sister takes her place. She becomes the lover of this man, she becomes his woman. She wants to tie herself with him, she wants to give him a son so that they won't have to leave. She wants the other child to disappear. The rough-stone landscape overlooking the ocean, the cruel waves of the sea, the silent water of the river, its secrets, the dead sheep in the water, the dead child in the river, the birds, wild weeds covering the glass box, wind, earth, water, fire, appear both as auspices and premonitions. In the world of Magrit life and death meets. She sees her mother, only she sees her mother. Her visions lead her far away toward the cruel edges of this world, yet approached from her with timidity. Gradually, the two sisters are growing apart. Their path diverged, marking the profound gap between childhood and womanhood. But it is Margit, who stays behind. At the end when everybody disappears, leaves or dies, it is only Margit who stays behind.
«Once there were two children whose mother was a bird. They flew away with her to the land of the birds, but she sent them back among people to take care of their father. But when they returned from the land of the birds, their father had found a new wife and did not know them. She closed their father's eyes to them and filled his hearing with her voice. She sent her laughter over the mountains and he followed. The children called after him, but he did not know their voices. And so they stayed behind and they knew  what the birds know.»
Within the enigmatic promise of a return to zoomorphism, unfolds the common value between the Jupiner tree and Harvest, allowing us to propose an inner dialogue, with all due respect. We came to this world to forget. We came to this world to remember.
«They remembered
the way of the return
And afterwards
They released the bondages of the horseshoes
They left behind heavy the pitchfork
the wet and heavy pillow
They stumped on each other while running
Back to back they rubbed the fur between them
Warm dust at their crossing
Warm dust in the river
A mass of unhaireds crossing and mudding the river
We watched becoming shallow the river»